The Ultimate Guide to Towing a Trailer: Tips, Techniques, and Safety Precautions
Towing a trailer can be an exciting and convenient way to transport your belongings or enjoy a family camping trip. However, it requires careful planning and knowledge of the necessary steps to ensure a safe and successful towing experience. In this article, we'll explore the ins and outs of towing a trailer in Douglas, Georgia, providing you with essential tips and guidance along the way.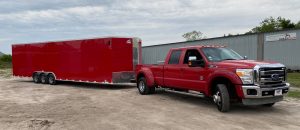 Section 1: Understand the Towing Regulations in Douglas, Georgia
Before hitting the road with your trailer, it's crucial to familiarize yourself with the towing regulations specific to Douglas, Georgia. By adhering to these rules, you can ensure a hassle-free journey without any legal complications. Here are a few key points to keep in mind:
1.1. Obtain the necessary licenses: In Georgia, if your trailer weighs over 3,000 pounds, you'll need to obtain a Class C driver's license with a towing endorsement.
1.2. Review trailer weight restrictions: Different trailer types have varying weight limits. Make sure your vehicle is capable of safely towing the weight of your trailer, including its cargo.
1.3. Familiarize yourself with speed limits: Georgia has specific speed limits for vehicles towing trailers, usually lower than those for regular vehicles. Stay within the designated speed limits to ensure safety and compliance.
Section 2: Prepare Your Vehicle for Towing
Ensuring that your vehicle is properly equipped and prepared for towing is crucial to avoid unnecessary accidents or damage. Follow these steps to prepare your vehicle:
2.1. Check the towing capacity: Consult your vehicle's owner's manual or contact the manufacturer to determine its maximum towing capacity. This information will help you select an appropriate trailer size.
2.2. Install a hitch: If your vehicle doesn't have a trailer hitch, have one installed by a professional. Ensure it is properly rated for the weight you'll be towing.
2.3. Inspect your trailer's lights and brakes: Verify that all trailer lights and brakes are in working order. This is essential for maintaining visibility and ensuring the safety of your vehicle and other drivers on the road.
Section 3: Load and Balance the Trailer
Properly loading and balancing your trailer is crucial for stability and safe towing. Follow these tips:
3.1. Distribute weight evenly: Place heavier items closer to the center of the trailer, ensuring an even distribution of weight. This helps maintain proper balance and prevents swaying.
3.2. Secure the load: Use tie-down straps, bungee cords, or cargo nets to secure the items in your trailer. This prevents them from shifting during transit.
3.3. Check tire pressure: Ensure that your trailer tires are properly inflated to the recommended pressure. Underinflated or overinflated tires can lead to poor handling or blowouts.
Section 4: Towing Techniques and Safety Measures
Now that your vehicle and trailer are ready, it's time to hit the road. Here are some essential towing techniques and safety measures to consider:
4.1. Accelerate and decelerate gradually: Avoid sudden acceleration or braking, as this can cause the trailer to sway or jackknife. Maintain a safe and consistent speed to ensure stability.
4.2. Use your mirrors effectively: Adjust your side and rearview mirrors to have a clear view of your trailer. Check them regularly to monitor traffic and ensure the trailer is in the correct position.
4.3. Allow for extra stopping distance: Since towing adds weight and changes your vehicle's dynamics, give yourself ample distance to stop safely. Keep a safe following distance from other vehicles.