Exploring the Versatility: Different Uses for a Cargo Trailer by Merica Cargo Trailers Georgia
Different Uses for a Cargo Trailer: Cargo trailers have become indispensable assets for a wide range of individuals and businesses due to their versatility and functionality. From transporting goods to serving as mobile workstations, these trailers offer endless possibilities. In this article, brought to you by Merica Cargo Trailers Douglas, Georgia, we will delve into the various innovative uses for cargo trailers. Discover how these trailers can cater to your unique needs and make your life easier.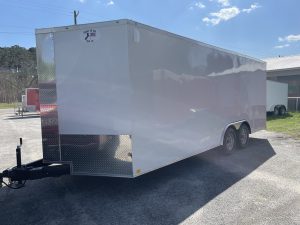 Business Operations: Cargo trailers serve as a cost-effective solution for many businesses. Here are some ways they can enhance your operations:
Mobile Retail Store: Convert a cargo trailer into a mobile shop or pop-up store, enabling you to bring your products directly to your customers at events, fairs, or markets.
Construction and Trades: Utilize a cargo trailer as a mobile workshop or tool storage unit, allowing you to transport your tools and equipment to job sites efficiently.
Food Services: Transform a cargo trailer into a food truck or mobile kitchen, enabling you to cater to events, festivals, or remote locations.
Recreational Activities: Cargo trailers provide adventure enthusiasts with endless possibilities for outdoor activities. Explore these exciting uses:
Camping and Travel: Convert a cargo trailer into a camper or RV, complete with living quarters, beds, a kitchenette, and storage, providing a comfortable and convenient travel experience.
Motorcycle or ATV Hauler: Transport your motorcycles or ATVs safely and securely in a cargo trailer, allowing you to explore various destinations with ease.
Sports Equipment: Carry your sports equipment, such as bicycles, kayaks, or surfboards, in a cargo trailer, ensuring you have everything you need for your favorite outdoor activities.
Moving and Storage: When it comes to relocation or storage needs, cargo trailers offer practical solutions:
Residential Moves: Use a cargo trailer as a moving truck alternative, allowing you to transport your belongings from one location to another efficiently and securely.
Business Moves: Relocate your office or business inventory using cargo trailers, providing a convenient and customizable solution.
Temporary Storage: Park a cargo trailer on your property to serve as temporary storage for equipment, inventory, or personal belongings during home renovations or relocations.
Event Transportation: Cargo trailers can play a crucial role in event logistics and transportation:
Event Support: Utilize cargo trailers to transport event supplies, equipment, signage, and promotional materials, ensuring a seamless event setup and breakdown.
Mobile Offices: Create a mobile office or command center using a cargo trailer, equipped with desks, computers, communication systems, and storage, enabling you to efficiently manage events or emergency situations.
Conclusion:
Cargo trailers are versatile assets that offer countless opportunities for various industries and individuals. From businesses looking to enhance their operations to outdoor enthusiasts seeking adventure, these trailers provide practical solutions to meet a wide range of needs. With the diverse uses outlined in this article, courtesy of Merica Cargo Trailers Douglas, Georgia, you can unleash the full potential of your cargo trailer and enjoy the convenience and flexibility it brings to your life.